Karl Vaters is the author of four books.
---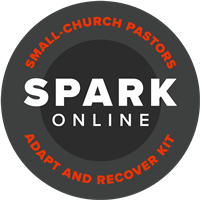 Karl produces resources for Helping Small Churches Thrive at KarlVaters.com, and has created S.P.A.R.K. Online (Small-Church Pastors Adapt & Recover Kit), which is updated regularly with new resources to help small churches deal with issues related to the COVID-19 crisis and aftermath.
Karl's heart is to help pastors of small churches (up to 90 percent of us) find the resources to lead well, and to capitalize on the unique advantages that come with pastoring a small church – something virtually every pastor will spend at least some of their ministry years doing. He also believes that big and small churches can and should work together more often – to the benefit and blessing of everyone.
Karl has been in pastoral ministry for almost 40 years. He is the teaching pastor of Cornerstone Christian Fellowship, a healthy small church in Orange County, California, where he has ministered for over 27 years with his wife, Shelley. They have three kids and two grandkids.
---
Photos and Logos
Here are some of photos and logos you might find useful to promote any speaking engagements or re-posts. Feel free to use what you need.
Click on any photo to open up a high-resolution version.
---
Speaking Engagements
If you're interested in having Karl speak to your group, fill out a Contact form, here.
You can also check out Karl's speaking page for his current speaking calendar, which is updated regularly.
---
---
What do you think? Leave a comment, suggestion or idea below.
Copyright © by KarlVaters.com. Click here to request permission to reprint.