If you're here, it's because you've taken the survey for the Healthy Church Assessment Tool, and now you want to take the next steps by working to strengthen the areas where your church needs help. If you haven't taken the assessment yet, click here [create hyperlink]. It's free, it's fast, and it's not about attendance.
Following is a list of articles I've written that address each of those categories. This a great place to start looking at how to improve areas that need work. We will add resources regularly, so keep coming back.
(You can click on any category to be taken directly there, or keep scrolling through and see all the options.)
Theology
Bible
(The eternal truths of the Bible are taught well and applied to our lives in practical ways.)
---
Worship
(Worship through song, prayer and action is an essential focus of our congregation.)
---
Salvation
(People are coming to faith in Jesus through the ministry of our church.)
---
Discipleship
(Church members are growing in their faith, volunteering for ministry, and discipling others.)
---
Leadership
Teamwork
(There are more teams than committees because church members care more about doing ministry than having a title.)
---
Unity
(There is a strong sense of love, cooperation and friendship among church members.)
---
Alignment
(There is a high degree of communication, cooperation and respect among department and ministry leaders.)
---
Context
(The language and methods we use to communicate the gospel can be easily grasped by an unchurched person.)
---
Mission
First Impressions
(There is an effective process in place to help first-time guests feel welcome and get connected.)
---
Outreach
(Congregation members feel good about telling their friends about the church and inviting them to attend.)
---
Demographics
(The demographic mix of our congregation (race, gender, age, etc.) is at least as diverse as our neighborhood.)
---
Impact
(If our church closed tomorrow, people outside our congregation would miss us.)
---
Attitude
Creativity
(When church members have new ministry ideas, they feel comfortable expressing them because they are heard, respected and embraced.)
---
Resilience
(Our church is a good place to ask hard questions because doubts aren't deadly and failure isn't fatal.)
---
Enthusiasm
(It's not unusual to see church members come early, stay late, sit up front and volunteer when needed.)
---
Anticipation
(We are more excited about the future than the past.)
---
For more help, check out any of these books.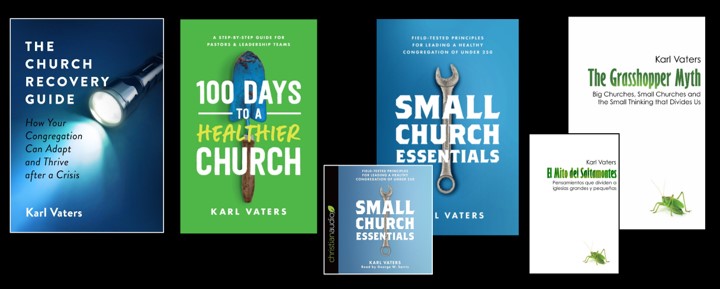 ---
---
---
What do you think? Leave a comment, suggestion or idea below.
Copyright © by KarlVaters.com. Click here to request permission to reprint.